Applicable to ENA v17.0 P05 upwards
How do I see which virtual machines my IP addresses are on?
Reporting of doubled flow values
Entuity supports monitoring of VMware NSX SDN flows (i.e. VXLAN overlays). Fully integrated with and utilizing ENA's wider functionality, ENA's VXLAN SDN monitoring gives you detailed statistics for both native IP flows as well as NSX VXLAN-encapsulated traffic.
Entuity gives you details about your VM endpoints so that you can see the VXLAN-only breakdowns of flow on your VMware NSX devices, and report on true VM to VM conversation statistics.
Automated discovery of VMs alongside the other devices and components of your network puts your SDN in the context of its environment. Understand traffic rates, packet rates, application breakdowns and QoS settings, so that you can help provide optimal performance across both physical and virtual networks.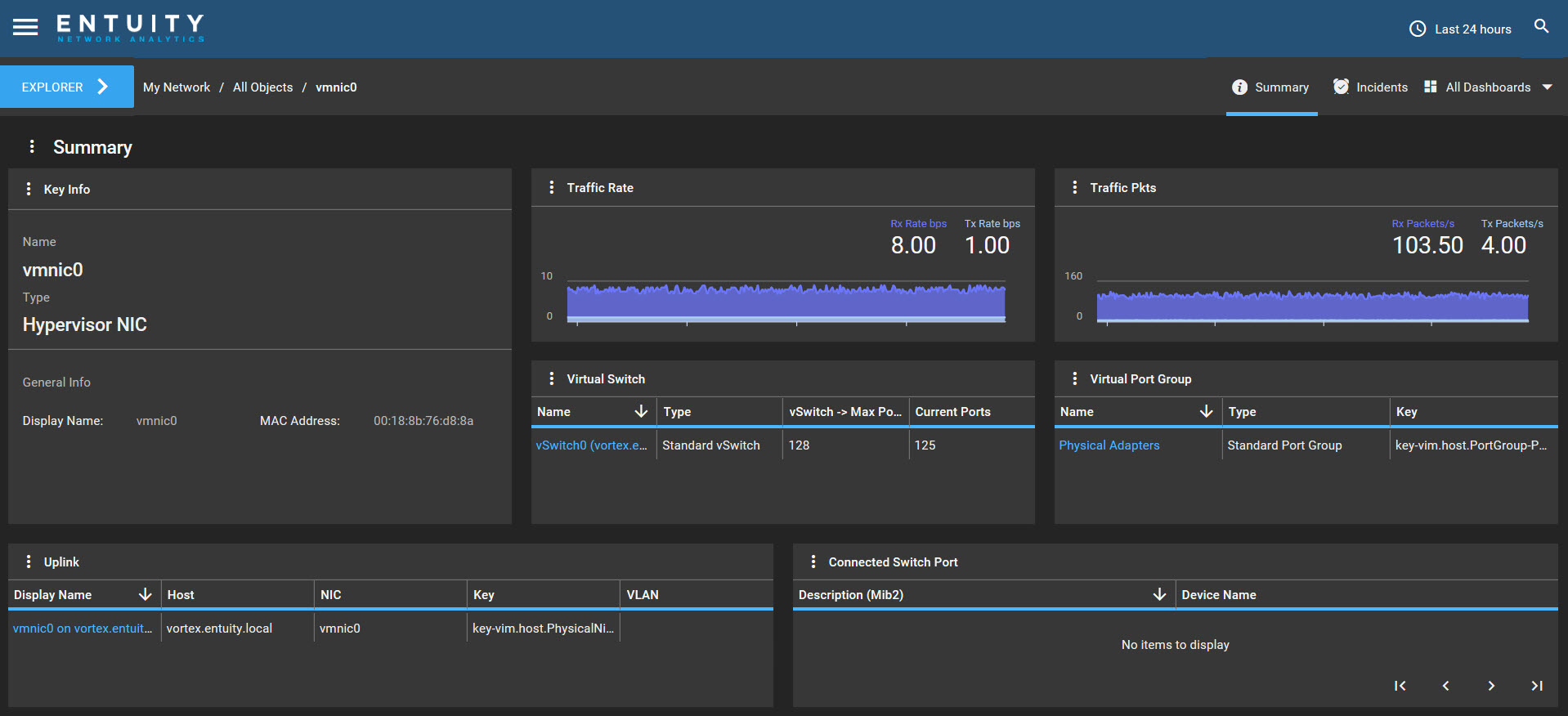 How do I see which virtual machines my IP addresses are on?
Navigate to the Flow dashboard for your virtual distributed switch (VDS).
In the Flow Data dashlet on the Flow dashboard, select the source and destination IP addresses in the table at the bottom of the dashlet and click Filter on Selected Items at the top of the dashlet.
Click Configure Chart at the top of the dashlet or via the dashlet's Overflow Menu. This will open the Configure Chart form on the right.
Click Manage Breakdowns and then select <attribute> (inside VXLAN) and click Done in the top right of the form. Save the edits you have made to the chart breakdown and return to the chart, and then you will be able to see the tenant interfaces, IP addresses, applications etc. From here you can identify which two VMs are pushing traffic through the affected link, and which applications they are using.
Reporting of doubled flow values
IMPORTANT - because of the way in which VMware has instrumented their virtual distributed switch, Entuity picks up doubled flow values. Therefore, Entuity reports flow values that are doubled what they should be, e.g.:
1MB going in and 1MB going out = 1MB of traffic, but Entuity will report 2MB of traffic.