Applicable for ENA v17.0 P09 and ENA v18.0 P01 upwards. If you are using an earlier version of Entuity, please see this article.
The Cisco IPSec VPN dashboard gives you a summary of information about VPN devices. This dashboard is only applicable to Cisco IPSec VPN devices. It is not applicable to any other VPN devices, nor any other data sources.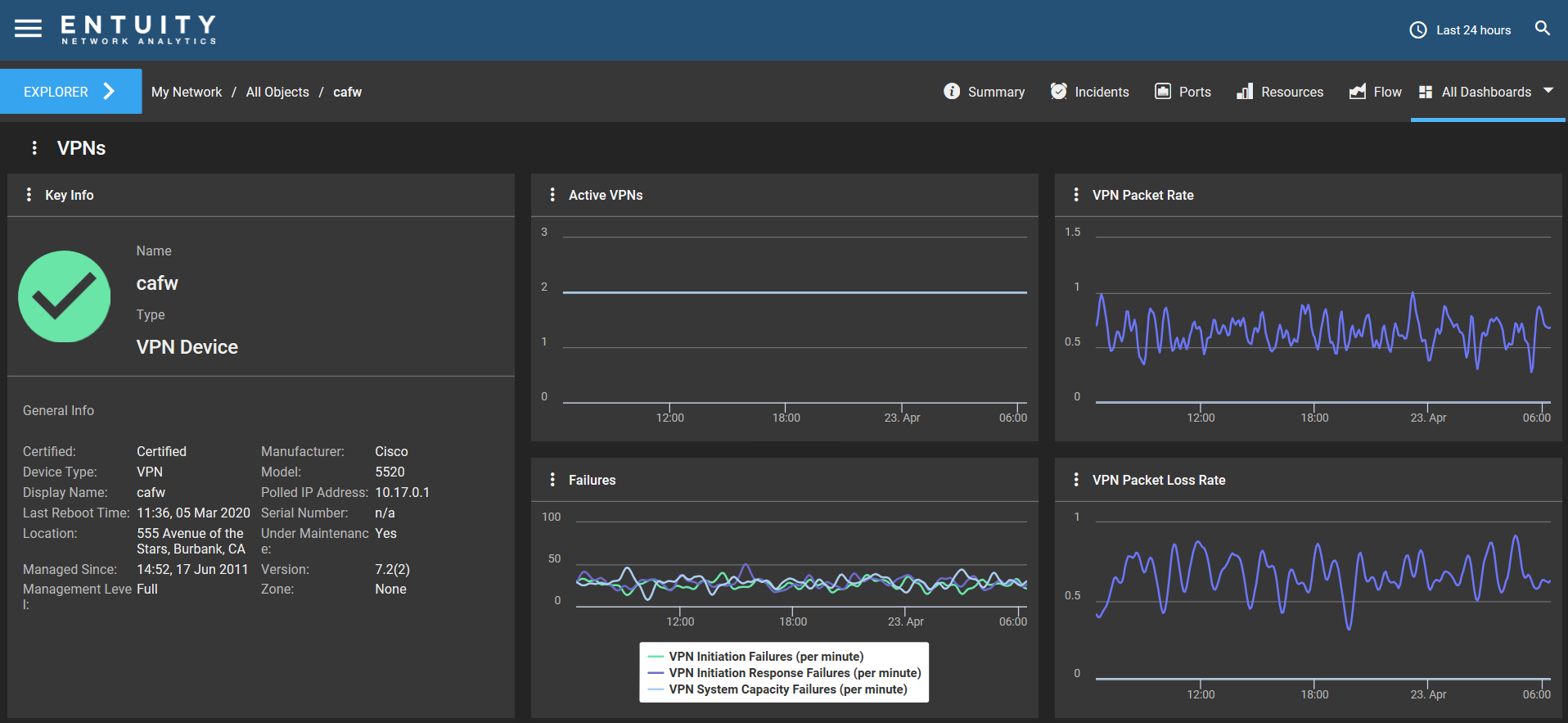 The VPNs dashboard is a system dashboard. This means that you cannot edit the settings of the dashboard. However, you can
create a copy
of a system dashboard and edit that copy as you want.
The Cisco IPSec VPN dashboard has five dashlets:
For the VPN device, these metrics are provided by the CISCO-IPSEC-FLOW-MONITOR-MIB (-.1.3.6.1.4.1.9.9.171), specifically the following OIDs:
CiscoVpnActiveIpsecVpns


.1.3.6.1.4.1.9.9.171.1.2.1.1.0

vpnInPktsDrop


.1.3.6.1.4.1.9.9.171.1.3.1.10.0

vpnOutPkts


.1.3.6.1.4.1.9.9.171.1.3.1.22.0

vpnOutPktsDrop


.1.3.6.1.4.1.9.9.171.1.3.1.23.0

vpnInitiationFailure


.1.3.6.1.4.1.9.9.171.1.2.1.20.0

vpnInitiationResponseFailure


.1.3.6.1.4.1.9.9.171.1.2.1.21.0

vpnSysCapacityFailure


.1.3.6.1.4.1.9.9.171.1.2.1.22.0

vpnInPkts


.1.3.6.1.4.1.9.9.171.1.3.1.9.0