Applicable to Entuity v21.0 upwards
Topology Group Management page
To view multi-server links within a topology group
To view multi-server links on a map
Introduction: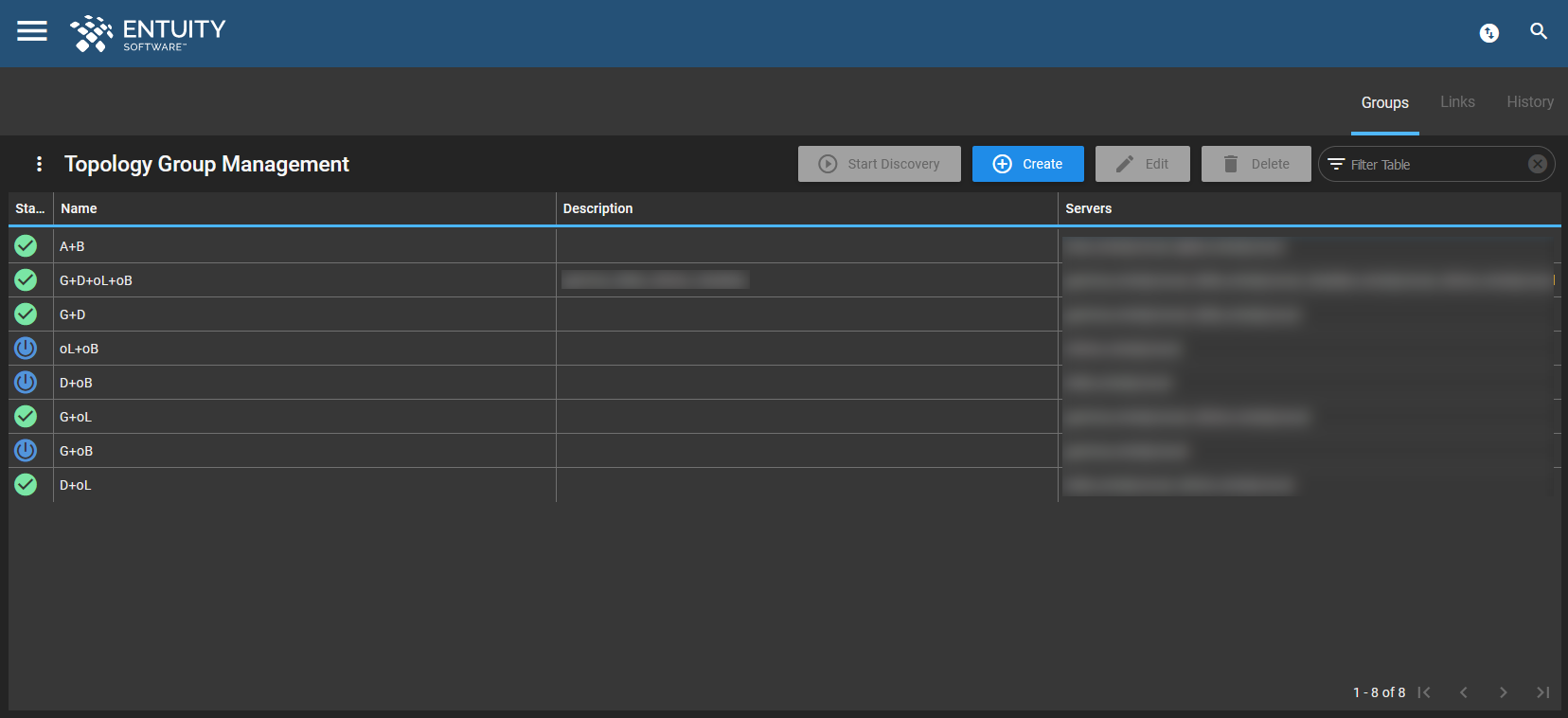 Entuity v21.0 introduces the concept of Topology Groups, a feature which allows grouping Entuity servers such that they can share topology information and discover links between devices managed on different Entuity servers within the group. This feature can be managed from the Topology Group Management page. Through this functionality, you can see the following types of links between devices across multiple polling servers and one or more consolidation servers, and monitor changes to those links:
Layer 2
Cisco Discovery Protocol (CDP)
Link Layer Discovery Protocol (LLDP)
Spanning Tree Protocol (STP)
You can create Topology Groups by which you can define sets of remote servers. The Topology Group will then discover all links between devices across the servers within that group. Using multi-server topology means that you do not need to manually create links between devices across different servers.
Below are example use cases for Topology Groups:
an enterprise might require a single Topology Group that contains all their polling servers.
an MSP might define multiple groups - one for each of their customers' networks where more than one polling server is required.
a Topology Group could cover a data center or geographical region to optimize the link discoveyr workload where a large number of devices are being monitored.
Permissions:
If not a member of the Administrators user group, users will require the Topology Group Administration user permission to access the Topology Group Administration page and multi-server topology functionality.
For further help and information on user permissions in Entuity, please see this article.
What is a Topology Group?
A Topology Group defines a set of remote servers (in which links between devices can be discovered) by which multi-server topology can be calculated.
A Topology Group contains at least two servers. Beyond this, a Topology Group can have the following variables:
a server can appear in multiple Topology Groups.
the servers in a Topology Group can also contain the consolidation server, if required, when the consolidation server is used to poll devices.
Topology Group Management page:
To access the Topology Group Management page:
Click Main Menu and then Administration.
Click Topology Group Management.


From the Topology Group Management page, you can access the following functionality:
Create, edit and delete Topology Groups.
Show the links in a Topology Group.
Start a discovery job to discover the links in a Topology Group
Show a history of topology jobs that have been run on a selected Topology Group.
To view multi-server links within a topology group:
You can view the multi-server links within a topology group from the Topology Group Management page. Please see this article for further help and information on this.
To view multi-server links on a map:
Once a Topology Group is set up and a topology discovery job is successfully run, you will be able to see the above-specified links between devices on different servers when accessing a Topological Map for a View. You will not need to make any changes to your Topological Map to see these links - these links will be automatically included.
For example, you might create and save a Topological Group containing Pollers 1, 2 and 3. Then, when you open a Topological Map - displaying the types of links specified above - for a View containing devices that are connected to other devices on Pollers 1, 2 or 3, those links and devices will automatically appear on the Topological Map.