To access the remote terminal via a context menu
To access the CLI for the selected managed device
To view terminal history in a separate window
You can access a remote terminal session for a managed device on your network. Entuity supports both SSH and Telnet remote terminal access. From Entuity v20.0 P02 upwards, you can remote terminal (SSH) into SD Controllers (e.g. Cisco DNAC and Cisco APIC).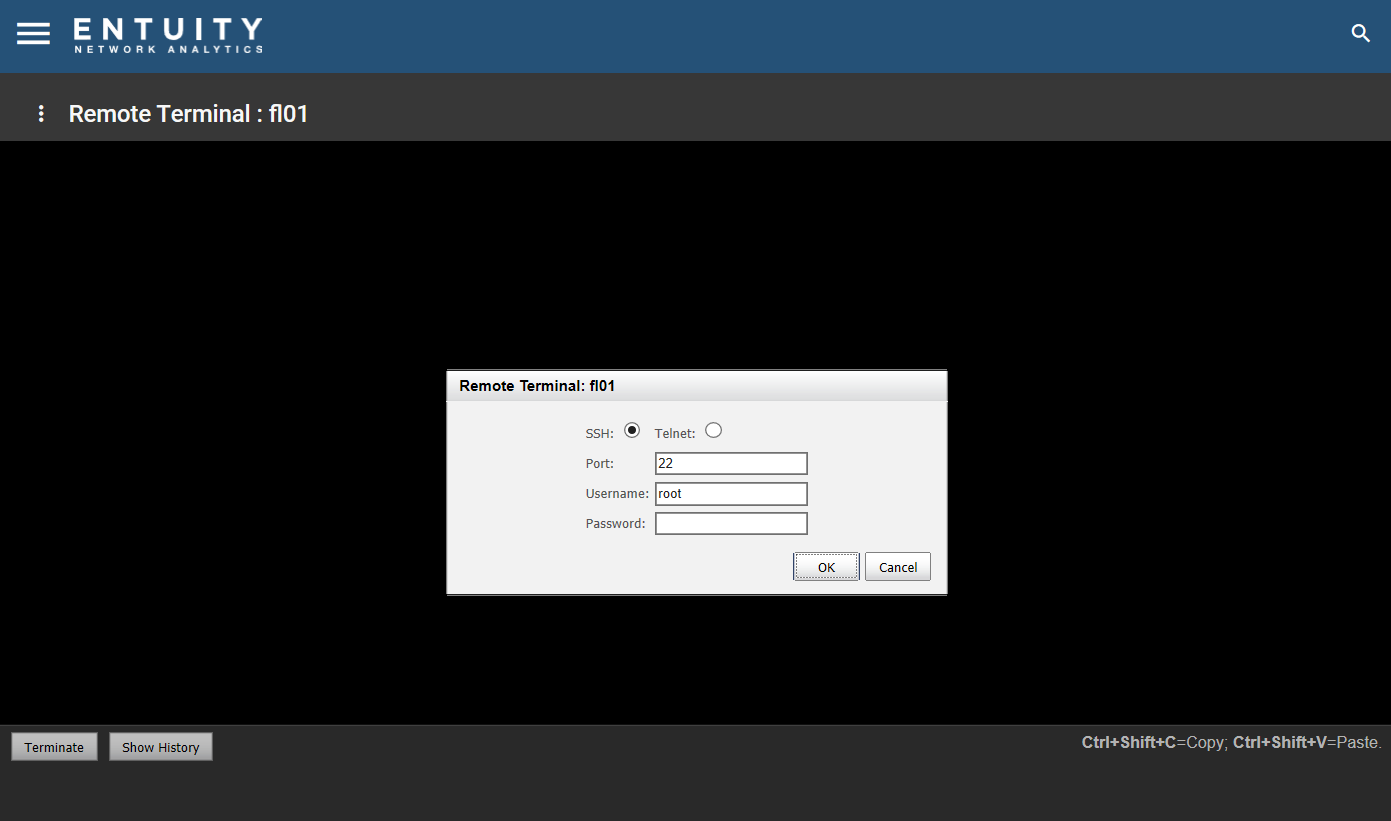 You can access a remote terminal session for a managed device on your network via the context menu of the selected device.
Note, a number of browsers (including Google Chrome and Microsoft Edge) will block the remote terminal from opening as a pop up. You may need to allow pop ups from Entuity on your browser settings.
To access the remote terminal via a context menu:
Navigate to the managed device for which you want to access the remote terminal.
Right click on the managed device to open its context menu, and click Remote Terminal.




This will open the Remote Terminal page for the selected managed object in a new tab, where you can sign in to the device.
To access the CLI for the selected managed device:
On the remote terminal page, you will see the Remote Terminal window for the selected managed device.
If SSH is selected, enter the login credentials for the device in the Username and Password fields. If Telnet is selected, you do not need to enter credentials. Click OK to proceed, otherwise click Cancel.
When you have entered the appropriate credentials, you will have access to the CLI for the managed device on the black screen.
To close the session, close the tab or click Terminate in the bottom left of the browser. A confirmation window will appear, click Yes to close or No to continue.
To view terminal history in a separate window:
Applicable for ENA v17.0 P05 upwards
Through Entuity, you can view up to 30,000 lines of remote terminal history for a device.
Navigate to the remote terminal for the device you wish to look at via one of the methods described above.
Click Show History at the bottom of the window. This opens the Remote Terminal: <device> History window, which displays the device's terminal history.